Oregon Coast Elopement Inspiration
Adventurous Beach Wedding in the Pacific Northwest
I've always been drawn to the ocean. The landscape feels like a living, breathing thing, almost like a character in a story. Since I was a kid and we'd go to the humid shores of the Texas gulf coast, a far cry from the pristine beaches of Oregon, I've loved the way that the ocean breathes. I remember pulling over a ridge the first time we visited Big Sur and getting out of the car to stand 200 feet above the ocean on a cliff, watching the waves pound the cliff below us, and not being able to mutter a single thing but a few tears in response. That was when I knew we had to get married in a landscape like that.
We got married on a foggy ocean cliffside, the gem colored water glittering far below us. I shivered as the breeze cut through my dress and by the end of it Nate put his suit jacket over my shoulders to stay warm. We celebrated with tear-filled eyes as we said "I do". And despite having photographed weddings in landscapes from the glacier-clad peaks of Patagonia and the unbelievably orange sunsets of Moab, to me there is still nothing like being on a rocky beach that breathes and changes and lives with every breaking wave.
I've wanted to visit the Oregon Coast for years. The opportunity presented itself when one of our past brides asked us to collaborate on a styled elopement shoot to experiment with some new ideas. Lexi is a fiber artist and wedding planner, and when we shot her wedding in the desert of Arizona last year we were blown away at the elaborate installations and fantastic macrame pieces that Lexi and her partner Doc had built together. This time, Lexi focused on something simple—her lightweight silks dyed with plants from her garden. Doc built a ceremony backdrop using driftwood found on the beach, and Lexi covered it with silk ribbons and foraged flowers. We had an incredible work-of-art of a dress by Tara LaTour that A&Bé Bridal Shop graciously contributed to our shoot. Lexi brought her friends Devin and Trianne to model for us, who made all of it feel like the real thing. We ran around on the beach, laughing and talking about life and weddings and love, eating donuts and drinking cider. All of it remained an attempt to keep warm while the ocean brought in intermittent rain.
We welcomed the rain as it brought in wind that gave life to the silk ribbons wrapped around the driftwood. Devin and Trianne held each other tight to stay warm and we celebrated as though they had just said "I do". The whole thing brought me back to our wedding, holding each other close as the updraft swept the cliffside. Despite all of this being "styled", in so many ways, and especially because of the weather, it felt like a real, intimate, adventurous elopement for some incredibly unique and beautiful humans.
I'm so grateful for creative individuals like the ones involved in this shoot. I'm especially grateful for Lexi, whose elopement planning company is an absolute dream to work with and take photos for. Check out the Slow Cult for beautifully curated, intentionally designed, environmentally friendly elopement and wedding planning.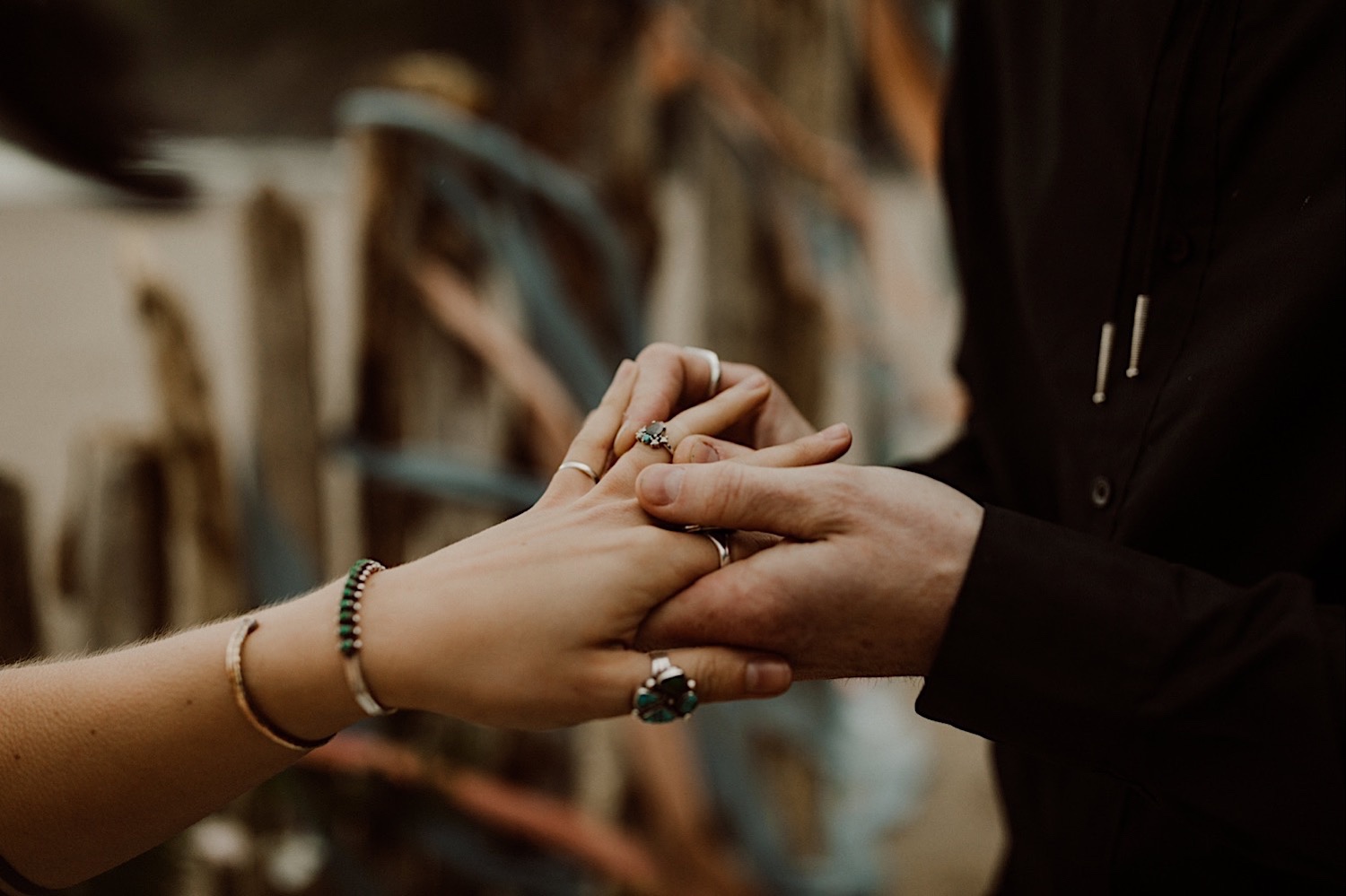 Cedar & Pines is an adventurous wedding and elopement photographer duo made up of Nate and Megan Kantor, a married couple living on the road in their Airstream and traveling the American West. They believe in honest wedding photography, capturing the small candid moments to the epic landscape views. They travel to photograph adventure elopements and destination weddings in Colorado, California, Utah, New Mexico, Arizona, Wyoming, Washington, Patagonia and the ends of the earth.